Turner's Sunsets
Painted by Glen Brooks, inspired by the work of  J.M.W. Turner
Artist Glen Brooks choose JMW Turner as his inspiration for this Elmer "because of the way he built upon tradition and experimented to create a style of his own."
JMW Turner is known for his imaginative landscapes and epic marine paintings. "His work, even today, feels like it sits within a genre all on its own. It is simply beautiful." Glen explains.
Glen recreated two of Turner's landscapes The Lake: Petworth, a Stag Drinking and Chichester Canal. The latter was commissioned by George Wyndham, the 3rd Earl of Egremont, who was a great patron of Turner's.
Along with the Northumberland and Seymour/Somerset families, Wyndham's art collection – including many of Turner's works – contributes to the extensive art collection which Petworth House is famous for today.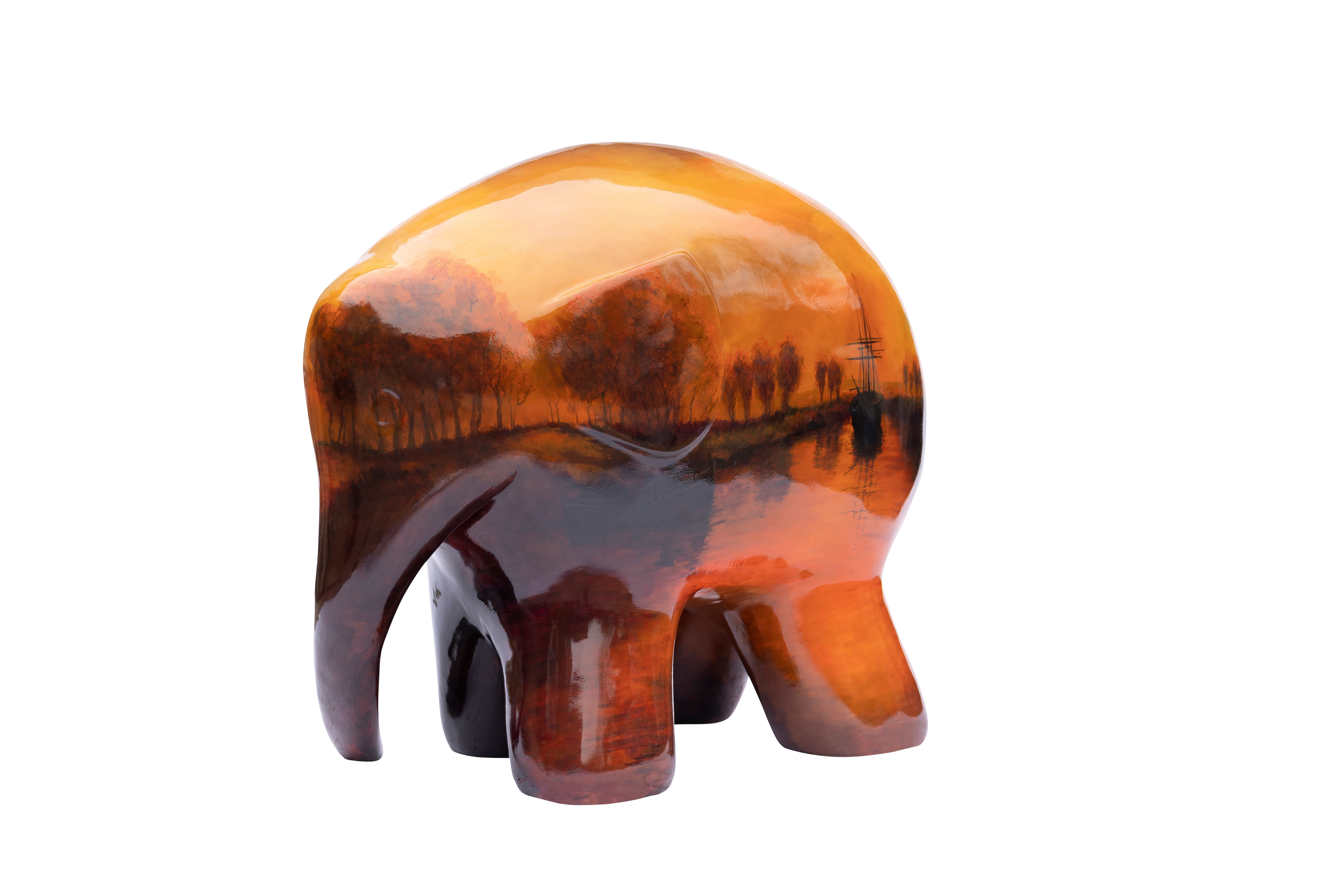 Floating in the Now
Painted by Kelly Ma, inspired by the work of Katsushika Hokusai
Floating in the Now is inspired by Katsushika Hokusai, a Japanese painter and printmaker of the Edo Period (1603-1867). He is best known for the woodblock print series Thirty-Six Views of Mount Fuji which includes the iconic print The Great Wave off Kanagawa.
He was a master of ukiyo-e – translated as 'pictures of the floating world' –  a genre of Japanese art which depicted the everyday lives of people in the 17th to 19th centuries.
"Hokusai immediately stood out to me" Kelly Ma explains. "He was one of my earliest and biggest influences as an artist in terms of style and visual approach."
Kelly's design combines her own artwork's playful connection between people, culture and cities and the ukiyo-e genre. Floating in the Now also references the Thirty-Six Views of Mount Fuji series, with the waves surrounding Elmer's feet and Mount Fuji peaking out over the top.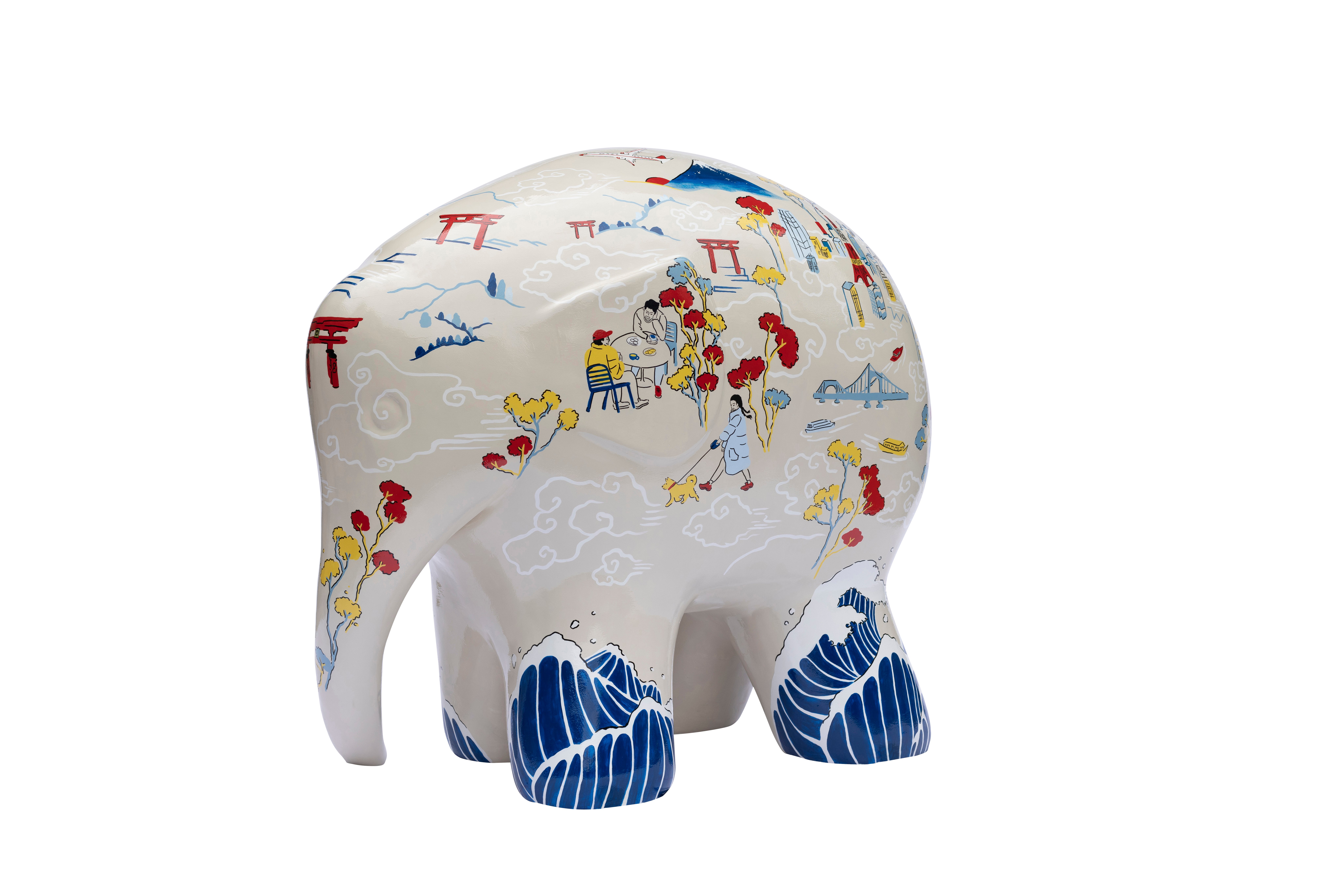 Maestro Morris
Painted by Gayani Ariyaratne, inspired by the work of William Morris
Maestro Morris celebrates the work of British textile designer William Morris, notably associated with the British Arts and Crafts Movement.
His first textile designs were created in the 1860s and were for embroideries. He then went on to create designs for furnishings, wallpapers, carpets, tapestries and book designs.
His iconic patterns of elegant swirls of vines, flowers, and leaves in perfect symmetry continue to be produced and marketed today.
Artist Gayani Ariyaratne said "I have been inspired by William Morris since I was a little girl. My love of plants and nature fits in with [his] designs."
Her Elmer design includes drawings of honeysuckle, cornflowers, artichokes and dandelions which Gayani saw in the gardens of the William Morris Gallery.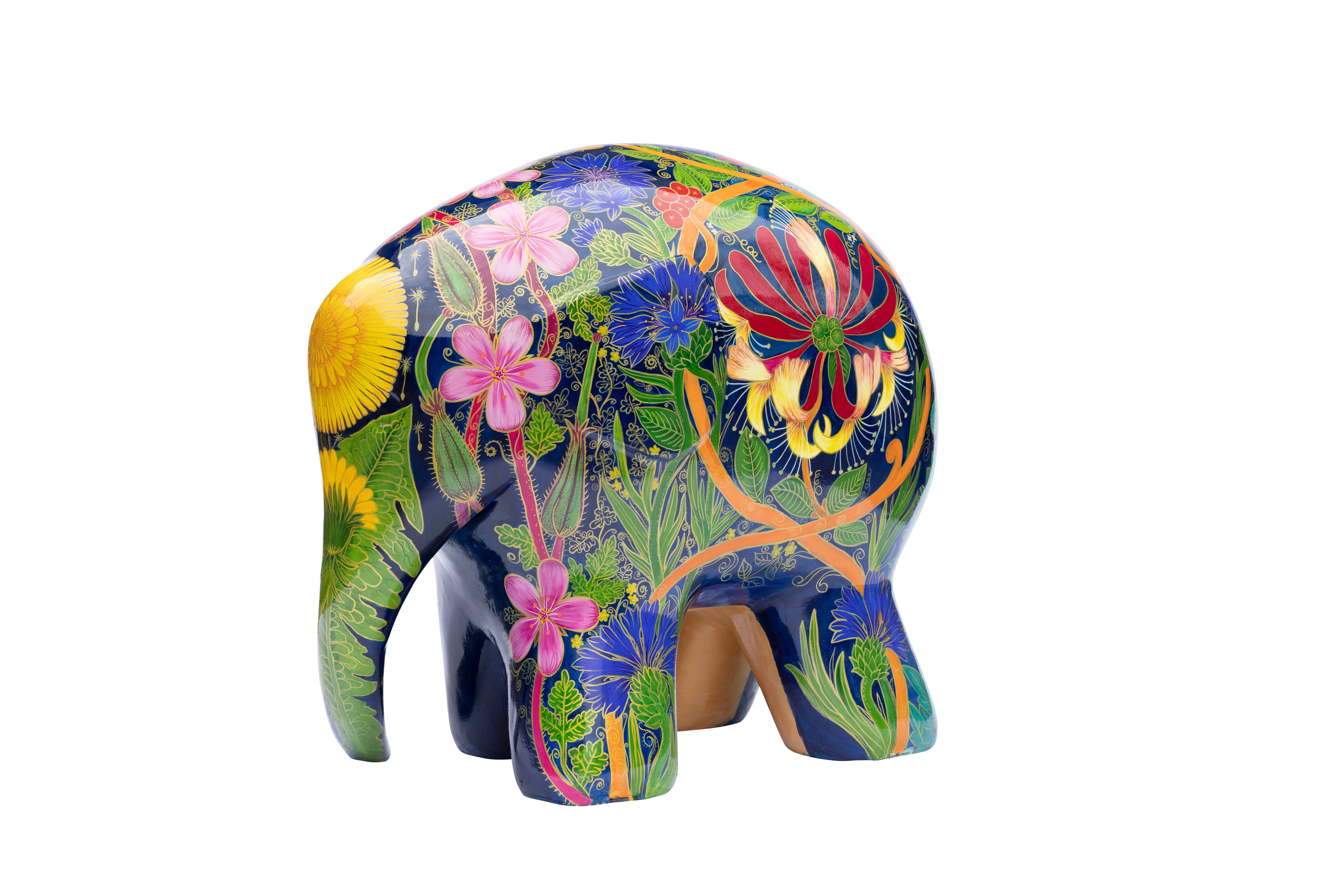 Faces of Basquiat
Painted by Jenny Leonard, inspired by the work of Jean-Michel Basquiat
Jean-Michel Basquiat was an American painter who rose to success in the 1980s as part of the Neo-expressionism movement. He used social commentary in his art as a tool for introspection and identifying with his experiences in the black community.
His artwork also attacked power structures and systems of racism. Basquiat's visuals were political and direct in their criticism of colonialism and support for class struggle.
On Faces of Basquiat, artist Jenny Leonard uses bold colour work, heavy layered strokes and a graffiti-style associated with Basquiat's work. Her take on of one of his most notable works, Untitled (1982), also features.
Jenny said "I love his colourful bold work and the fact that things are out of proportion and messy. It really gave me a chance to layer up the paint and go wild with the sculpture."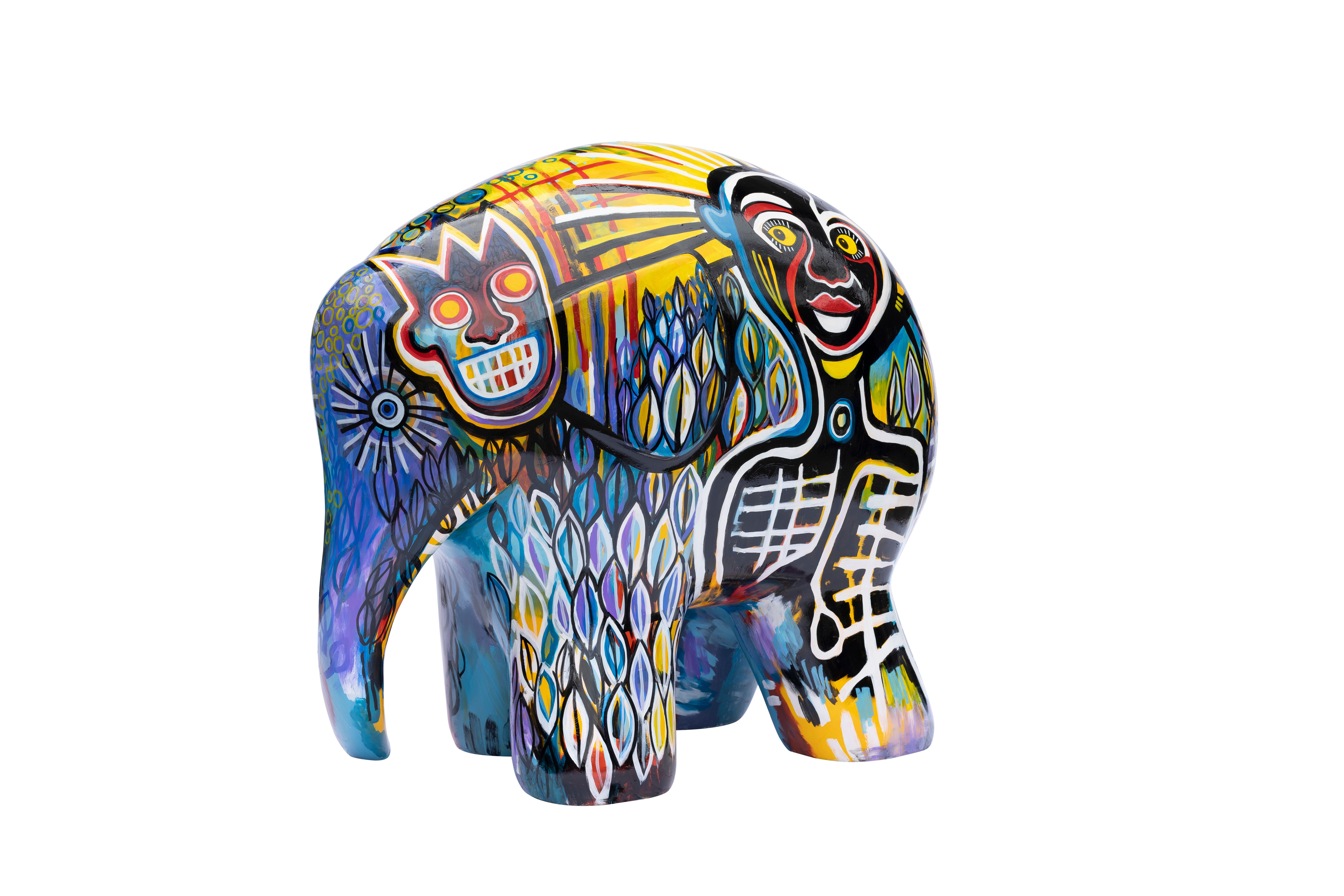 The Polymath
Painted by Jane Mota, inspired by the work of Leonardo Da Vinci
The Polymath reproduces some of the detailed sketches produced by Leonardo Da Vinci, The Virtuvian Man, A Skull Sectioned and Drawing of Lilies, for an Annunciation.
This Elmer's title comes from the same name given to the Italian High Renaissance artist – defined as an individual whose knowledge spans a number of subjects, known to draw on complex bodies of knowledge to solve specific problems.
"His work spans many roles; an inventor, a biologist, a philosopher, a scientific investigator and of course an artist" artist Jane Mota explains.
Jane's main influences are surrealist art, avant-garde, the Renaissance and postmodern literature.
"There is perhaps no other artist from history whose ideas, work and study take you on a dizzying exploration of art, life and more."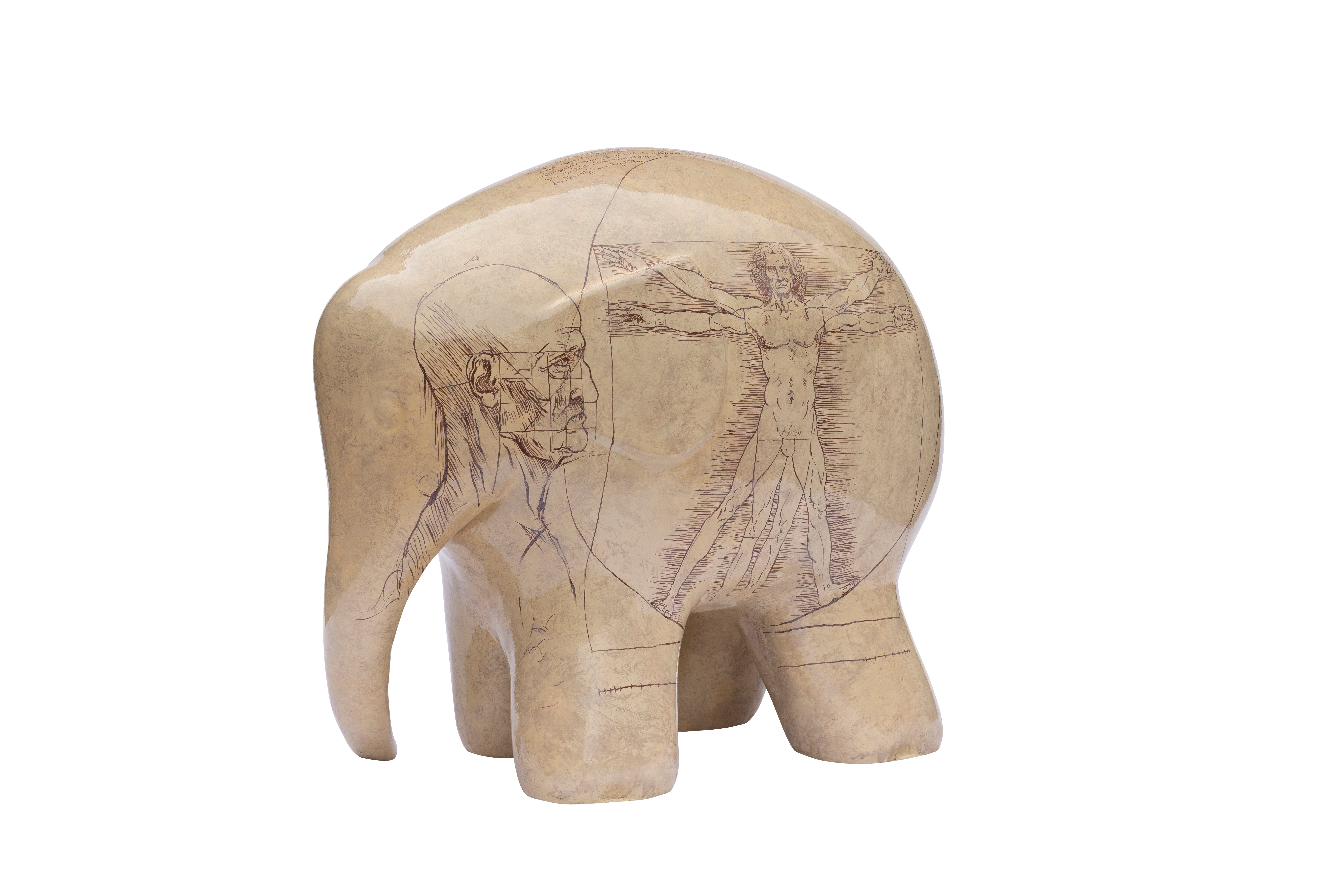 Polka Dot
Painted by MrASingh, inspired by the work of Yayoi Kusama
Polka Dot takes inspiration from Japanese contemporary artist Yayoi Kusama. Her work spans primarily sculpture and installation but also performance, fashion, painting and poetry.
She is a self-described "obsessional artist", known for her extensive use of polka dots and her infinity installations.
"Her use of polka dots, vibrant colours and line making have had a positive influence on my artistic style" Polka Dot artist MrASingh explains.
"I am especially drawn to her philosophical approach to patterns and shapes, which encourages creative play and a sense of wonder."
MrASingh, who is inspired by nature, world cultures and the opportunity to inspire others, "wanted to acknowledge Yayoi's style but combine it with [his] own style of pattern making and colour".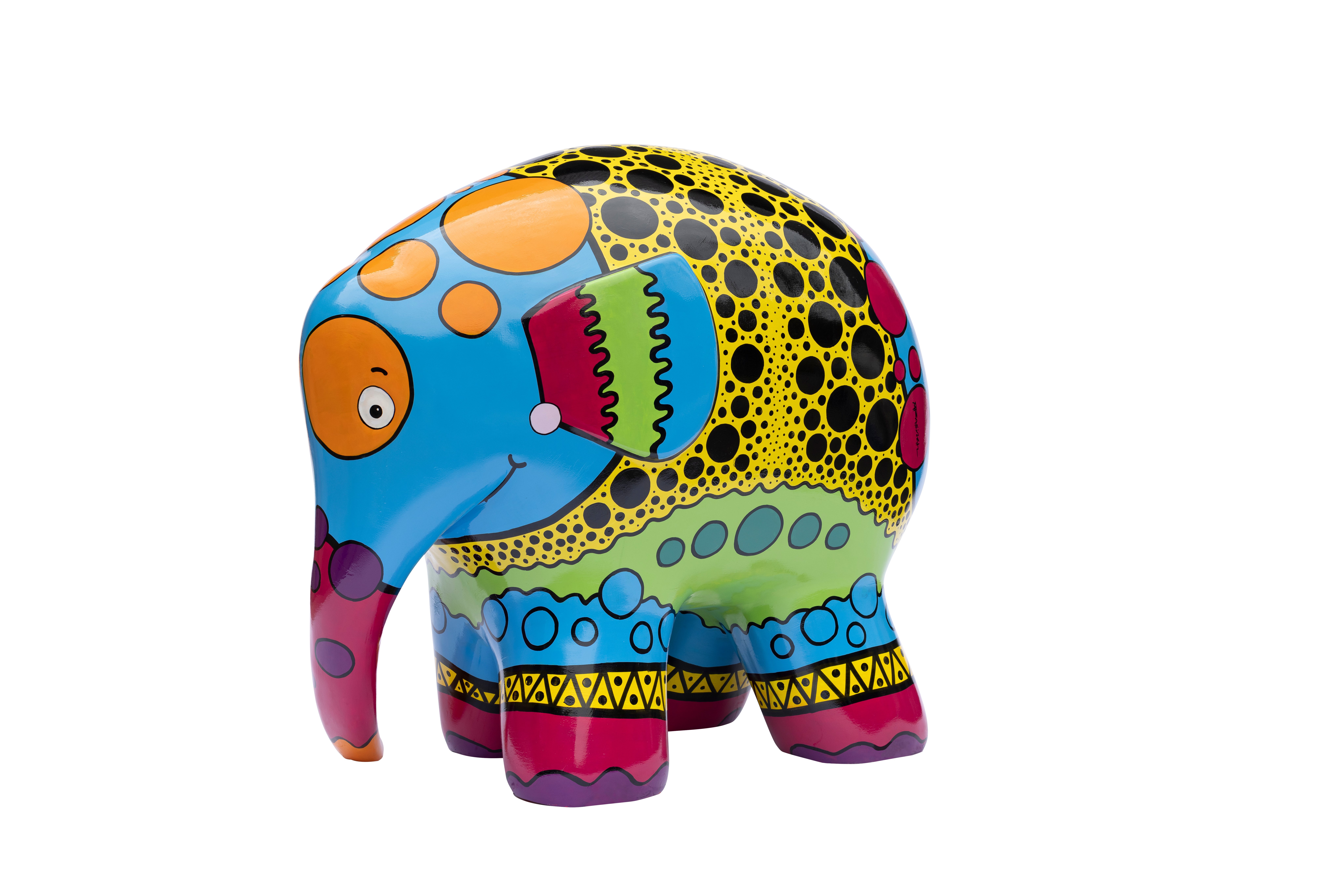 Slunce a Měsíc (Sun & Moon)
Painted by Adam Pekr, inspired by the work of Alphonse Mucha
Artist Adam Pekr chose Czech painter, illustrator and graphic artist Alphonse Mucha to inspire this Elmer sculpture.
As a Czech artist himself, Adam "grew up seeing his [Mucha's] work all around him" and found Mucha's artwork influencing his own art style without knowing.
Mucha is known for his distinctly stylised and decorative theatrical posters. He produced illustrations, advertisements and decorative panels which became among the best-known images of the Art Nouveau period.
Adam explains further that "his fusion of realism with curved lines and details flowers – in what became known as the epitome of Art Nouveau – speaks to my heart very closely. When I doodle, I find myself speaking to Mucha."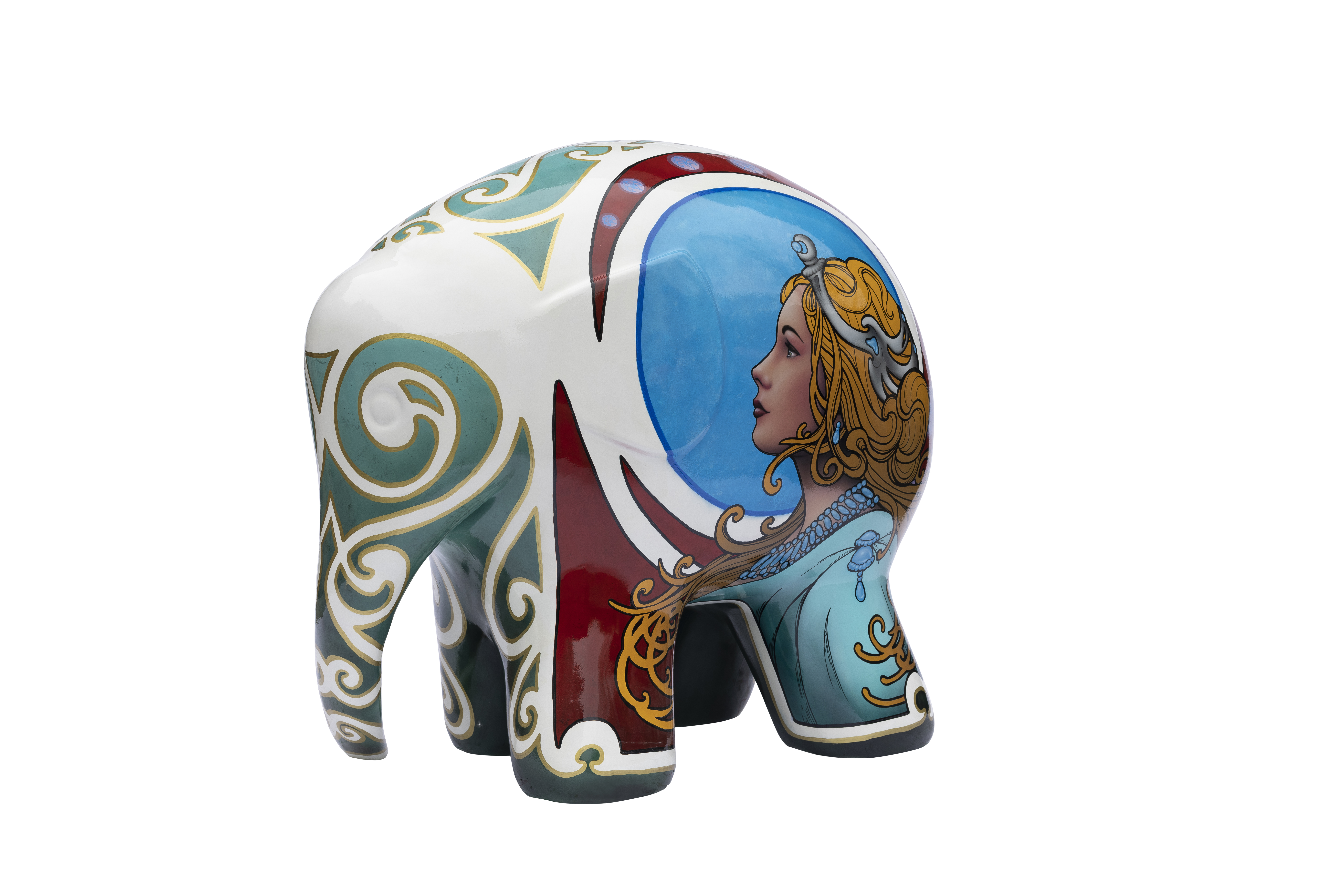 Frida-phant
Painted by Caroline Daly, inspired by the work of Frida Kahlo
Frida-phant is inspired by Mexican painter Frida Kahlo.
Kahlo is known for her many portraits and self-portraits which often had strong autobiographical elements and mixed realism with fantasy.
"She was so ahead of her time. By embracing her natural beauty and transcending society's beauty standards, she didn't follow trends and was true to herself" artist Caroline Daly explains.
Aside from her powerful self-portraits, the feminist icon is also known for her unibrow, a purposeful statement rejecting stereotypes about what conventional beauty looks like.
Frida-phant takes inspiration from the beauty, colours and patterns of Mexican folk art and also references the iconic unibrow.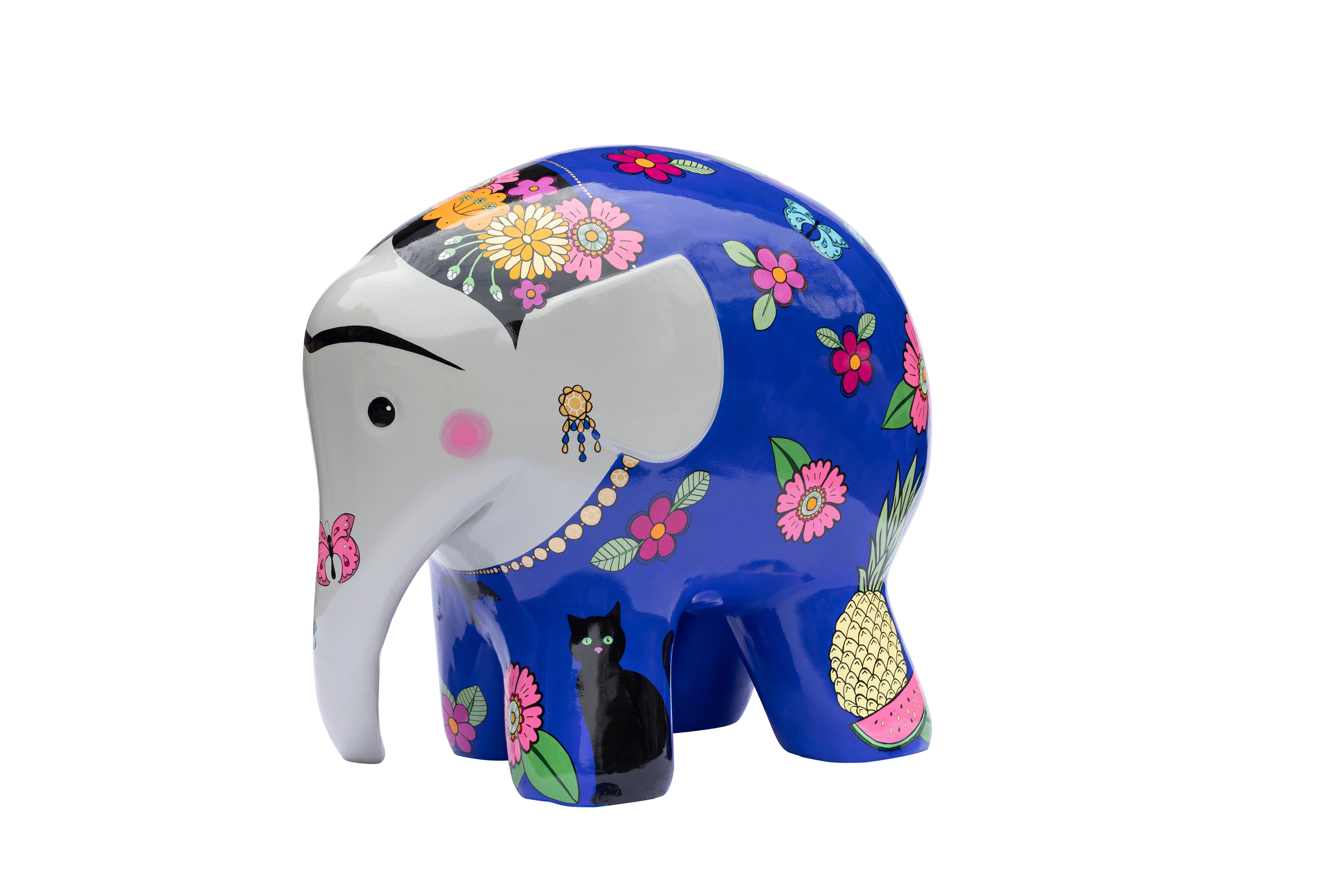 Lily
Painted by Donna Newman, inspired by the work of Claude Monet
Lily is based on one of Claude Monet's most popular series of paintings Water Lilies. During the last thirty years of his life, his flower garden at his home in Giverny was the main focus of his artistic output.
Artist Donna Newman wanted to take inspiration from Monet for this project because he was one of her childhood heroes. "I remember seeing his paintings in the National Gallery and being in awe of their scale, his expressive mark making and use of colour" she explains.
"As a mural artist, I enjoy working on a large scale and try to inject a lot of vibrant colour into my own work."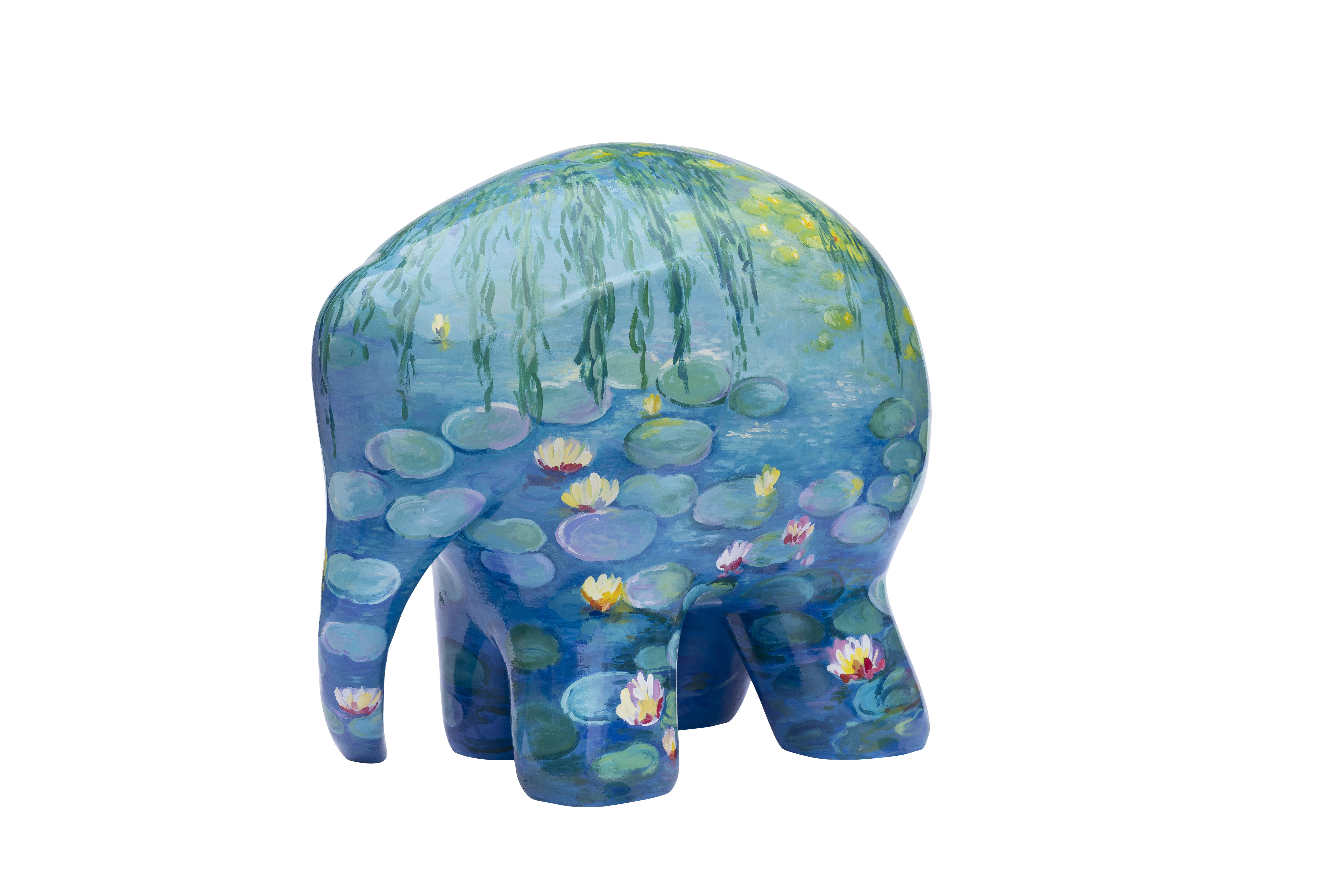 Elmer the Patchworth Elephant
Created by David McKee
A beloved classic and firm family favourite, David McKee's iconic and brightly coloured patchwork elephant is the ambassador for friendship and celebrating everyone's own true colours.
David McKee (1935 – 2022) was the creator of well-known characters including King Rollo, Mr Benn and Elmer the Patchwork Elephant, which is now published in more than 60 languages and has its own successful global merchandise programme.
David was born in Devon and went to Plymouth Art College, where he had a traditional training. On leaving college he drew regularly for Punch, Reader's Digest, and The Times Educational Supplement. His drawings were influenced especially by Saul Steinberg and Andre Francois.
In 2020 David won the British Book Awards Illustrator of the Year Award and BookTrust's Lifetime Achievement Award.